.
.
.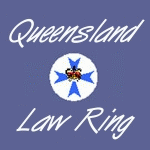 .
Join the Queensland Law Ring
.
Four steps to join the Queensland Law Ring
Step One - Check if you site is eligible.
.

These are the criteria applied in deciding whether or not a site is suitable for this ring:
.
(1) The ring is intended primarily for the websites of Queensland lawyers, including barristers and solicitors, as well as legal academics and institutions. Websites of law students will be admitted to the ring if they are judged to include content which is useful to the legal profession. Other websites, containing information of interest to Queensland lawyers, will be considered on their merits.
.
(2) Sites which offer or promote legal services to the public will only be accepted from qualified lawyers (barristers or solicitors) practising in Queensland.
.
(3) Sites which offer or promote other services - such as patent attorneys, forensic document examiners and other professionals willing to provide expert advice, process servers, private investigators, loss adjusters, legal publishers and booksellers, and lodgement services - may be admitted to the ring if the services offered are judged to be of sufficient relevance to members of the Queensland legal profession. Preference will be given to Queensland-based firms. Persons offering such services must hold all qualifications and licences (if any) required under Queensland law to practise in this State.
.
(4) A site will not be admitted to the ring if it includes (or contains links to): "adult" content; matter which promotes intolerance on the grounds or sex or sexual orientation, race or ethnicity, religion, or disability; matter which promotes illegal or immoral conduct; or matter associated with political extremeism.
Step Two - Submit your site to the Queensland Law Ring.
.
Click on this link to submit your site to the Queensland Law Ring:
.



.
Your site will then be checked to ensure that it meets the criteria set out above, and is otherwise suitable for inclusion in the Ring, and you will be advised (by email) accordingly.
Step Three - Insert HTML fragment on your website.
.
If your site is accepted for inclusion in the ring, you will be referred to a webpage containing an HTML fragment to be placed on your site.
.
The webpage on which you insert the HTML fragment must be the same webpage as you have given as your website's URL. It need not be the main page of your website. But it is unfair to other members of the web ring if surfers who reach your website via the webring cannot continue from the same page to other sites in the webring. The HTML fragment will produce an insertion on your webpage like this:
.

.
You may alter the lay-out and configuration of the HTML fragment to suit the style of your own website, so long as all of the links and components are used.
.
If you wish to use an alternative navigation bar like the one set out below, the necessary HTML coding is provided in this text document. You may either download and save the graphics to your own web server; or link to the graphics on this site. The necessary graphics can be linked or downloaded from this directory. If linking to the graphics on this website, remember to include the full URL for the directory where the graphics are stored: (http://www.lexscripta.com/graphics/qldlaw/).
.
.
Step Four - Email Me
.
Once the HTML fragment has been added to your website, send me an email. I will check that the HTML fragment has been added correctly, and notify you by email of any problems.
For more information, visit:
Yahoo ! WebRing Help
..
.
| | |
| --- | --- |
| was constructed and is maintained by | Level 13, MLC Centre 239 George Street Brisbane, Queensland 4000, Australia Telephone: +61 7 3229 0267 Facsimile: +61 7 3221 6715 Email: editor@lexscripta.com |
.
.