Reference Resources

Current Information

Site Navigation

Utilities

Editor's Links

Website Information

Editor's Contact

.

Other Barristers
Email Addresses and Home Pages
of the Queensland Legal Profession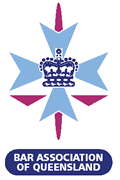 Barristers: Southern and Central Queensland

use the Site Search facility to search for
a specific barrister's or firm's name

NAME & WEBSITE (if any)
EMAIL ADDRESS

Bagley, Charles

bagley@gcbar.com

Broadbent, (Dr.) Russell

russjo@onthenet.com.au

Campbell, Michael

campbell@gcbar.com

Clark, Braedon

bclark@bcbar.com.au

Cousins, Sean

seancousins@iprimus.com.au

Eastwood, Mick

Frigo, Ronald

frigo@gcbar.com

or

innsgc@email.flow.com.au

Grenacs, Bela (Bill)

bgre3413@bigpond.net.au

Lancaster, Peter

lancaster@gcbar.com

McAuley, Mark

dmmcauley@oddpost.com

Magee, Kerry

magee@onthenet.com.au

Morrow, Peter

pmorrow@onthenet.com.au

Pope, Matt

mep@ozemail.com.au

Prus-Butwilowicz, Jerry

jprus@qldbar.asn.au
Radcliff, Gary

law@GaryRadcliff.com

Reilly, Bernard

reillyb@bigpond.com

Rosser, Christopher

chrisrosser@bigpond.com

Thompson, Sarah

thompson.se@bigpond.com
| | |
| --- | --- |
| NAME & WEBSITE (if any) | EMAIL ADDRESS |
| Barclay, Stephen | sbarclay@qldbar.asn.au |
| Courtney, Stephen | steve.courtney@bigpond.com |
| Crisp, Paul | pcrisp1@bigpond.com |
| Farrell, John | jdfarrell@bigpond.com |
| Garrick, Glen | garrick@beachaccess.com.au |
| Murphy, John | johnm@bigpond.net.au |
| Parker, John | jcparker@bigpond.com |
| Rivett, John | kneedeep1@bigpond.com |
| Selby, Lynette | lyn.selby01@optusnet.com.au |
| Stubbins, Neil | stubbins@squirrel.com.au |
| Wallace, Andrew | wallco@iprimus.com.au |

Note: The insignia of the Bar Association of Queensland is used on this page, with the permission of the Bar Association,
for illustrative purposes only. This is not intended to imply that this website has the support or endorsement of any of that body;
nor that barristers listed on this page are necessarily members of the Bar Association.


copyright © 1998-2005
all rights reserved
Anthony John Hunter Morris QC
Level 13, 239 George Street
Brisbane, Queensland
Australia 4000
telephone: +61 7 3229 0267
facsimile: +61 7 3221 6715
editor@lexscripta.com
this page last updated 29 November 2006